GUGM 2015 Call for Proposals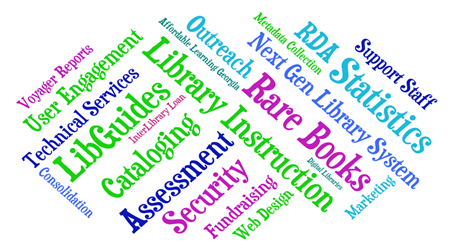 Collaboration and Convergence: GIL Users Group Meeting (GUGM)
Thursday, May 14, 2015, 9:00am-3:30pm
Middle Georgia State College, Macon Campus
GIL users are dedicated to excellence, using their creativity to solve problems and address user needs, and the GUGM 2015 theme, Collaboration and Convergence recognizes this flexibility and resourcefulness. Now, the GUGM 2015 planning committee cordially invites you to share your savvy with colleagues across the USG. We know you've got unique approaches to working in a collaborative and continually changing environment, and we'd love to hear more!
Individual/group presentations or panel discussions are welcome for any of the functional areas:
Acquisitions/Serials
Cataloging
Circulation/Reserves/GIL Express
ILL
Media Scheduling
OPAC/Reference
Special Collections
General
If you have a proposal for one of these areas, please click the Program Proposal Submission Link: GUGM2015Call to submit a proposal by the March 9 deadline. Presenters will be notified of proposal acceptance by April 3.